(THIS POST PROBABLY CONTAINS AFFILIATE LINKS. OUR FULL DISCLOSURE POLICY IS REALLY BORING, BUT YOU CAN FIND IT HERE.)
Easy Crochet Baby Dress Patterns
Easy crochet baby dress patterns are a wonderful way to develop a wardrobe for your little one. Plus easy crochet baby dress for beginners are very popular that are enjoyed by experienced crocheters too. When I first started crocheting, I really enjoyed and made many adorable easy crochet baby dresses for the beginner level. They are just very fun and so cute. The lacy crochet baby dress pattern quickly became a long standing favorite, as it is with many crocheters.
I have chosen several precious little outfits for you. All are geared toward the less experienced crocheter, but even the experienced crocheters will enjoy these. Including many FREE Baby Dress Crochet Patterns.
I also have a Free beginners guide to Reading Crochet Patterns that includes three mo re Free crochet baby dresses patterns at the bottom of this post. So enjoy your search for your next easy crochet baby dress for beginners. You're going to fall in love.
Baby's Summer Dress
This is the cutest little baby girl dress crochet pattern. The little one in the picture above is 8 months old. The woman who wrote this free baby dress crochet pattern gives her insights in to sizing which may be helpful to you. And of course don't forget that you can change the yarn color, make it solid or textured. Make it your own. And if this is a gift you may enjoy the idea of finding out the nursery colors and coordinating this gift. This is a a very sweet free  easy crochet baby dress pattern.
.
Beautiful Free Baby Dress Crochet Patterns and some patterns with video tutorials. Also a Free Beginners Guide to Read Crochet Patterns.
Click To Tweet
 Ice blue Dress , Crochet Dress , Baby Dress , Dress Pattern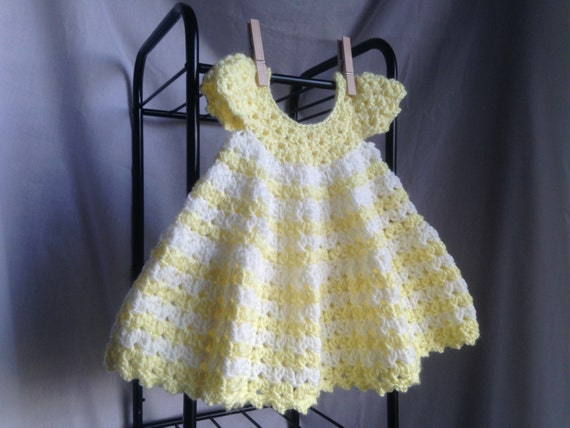 Crochet PATTERN – baby dress crochet pattern, summer crochet baby dress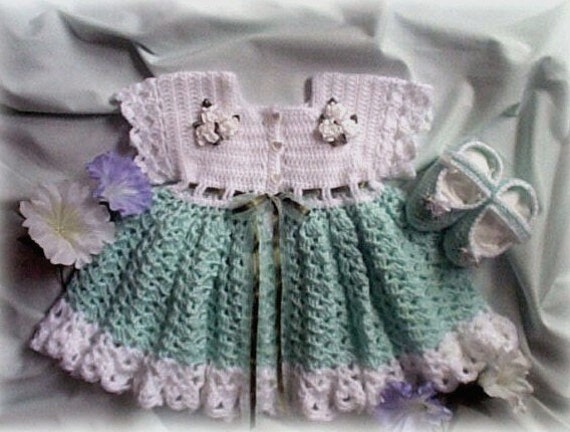 Crochet Pattern for Morning Glory Baby Dress with Booties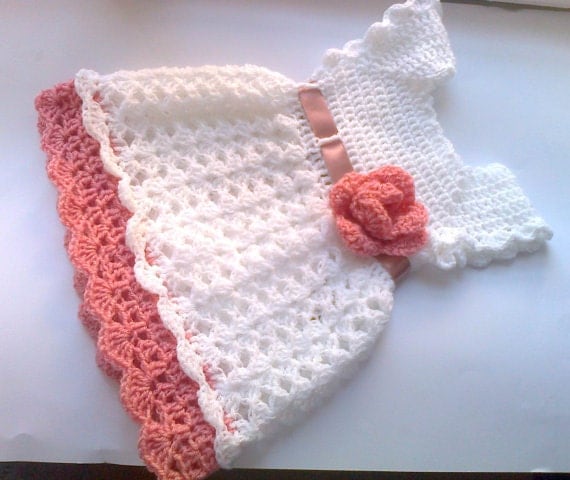 Crochet pattern baby dress pattern pdf Flower Baby dress crochet pattern

Etsy is a very popular site for very talented Artisans to sell their creations. These are beautiful patterns that are detailed and easy to follow. I have chosen only a few for you to see, but Click Here If you want to continue your search at Etsy.
Baby Dress Free Crochet Pattern
Lisa is an exceptional artist and creates the most adorable crochet patterns. Her work is truly beautiful because it is all made and created with love. She gives a lot of details with her patterns and explains how to crochet the baby dress step by step. And makes suggestions for changes you might make, or yarn to use, or sizing help. This pattern is considered easy which is her specialty  because she is very concerned that everyone enjoy this craft. Just Click Here to get this complete free crochet baby dresses pattern and meet Lisa.
I have a great help for new crocheters or crocheters that like free patterns. My Free Beginners Guide To Reading Crochet Patterns along with three more free crochet baby dress patterns. It is in my Free Resource Library. You can get the password at the bottom of this post.
 Crochet Pattern Baby Dress 6/12M

Baby Crochet Dress PATTERN

Crochet baby dress pattern

Crochet baby dress pattern 0-4 years

Beautiful, cute, girly and lacey little Easy crochet baby dress patterns beginner level for you to make. All from Craftsy, a very popular crafting site that has the most beautiful things. Worth exploring. I have chosen a few for you to see but if you think you'd like to explore more from Craftsy, Click Here.
 Crochet Strawberry Shortcake Baby Girl Dress 0-6M Pattern

Pretty easy crochet baby dress patterns do not have to be difficult to be beautiful. In fact, this gorgeous little dress is easy to crochet and there is the added bonus of this dress having an easy crochet baby dress video to walk you through each step of making this dress. The perfect way to learn to make a baby dress and a really pretty one at that. In the video she even suggests the type of yarn she used to help you be successful with your creation. Here is the Video.
Learn How To Crochet Strawberry Shortcake Baby Dress 0-6 months (Video)
Sugar N Spice Dress ~FREE PATTERN~
Very adorable easy crochet for beginners baby girls dress pattern for free. The author gives you how to crochet baby dress step by step. . And says she created this for beginner crocheters. Also she did a video to help you be able to successfully complete the pattern. This is a very cute pattern, and very pretty. Enjoy this one. And remember switch up the colors and textures and really make it your own.
Crochet Baby Dress~Sugar N Spice tutorial (Video)
This resource library is open to everyone for free.  
Free Printables, reports and other fun things. Ever Growing, Have a Look!
The Password to my Free Resource Library is 'HappyLife'. No sign ups, just free!
We want everyone to Live their Best Life. Please Enjoy Your read. 
Thanks For Your Visit! Please Pin This Pin To Your Favorite Board For Future Reference
https://www.pinterest.com/pin/23784704266532270/